Kevin Winter interviewed
by Paul Sander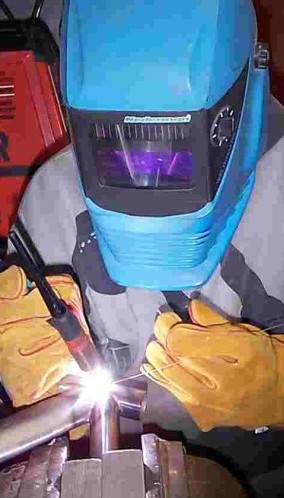 Paul: How did you get started in this line of business?
Kevin: I started doing toolmaking, then special-purpose machinery as a development engineer. That led to me being asked to supply framebuilding jigs and fixtures when a friend became a framebuilder. He soon became very busy and asked me to join him to develop his business.
Paul: What qualifications do you have?
Kevin: I am a time-served engineer with many years of experience in a variety of aspects of mechanical engineering. I have a mechanical engineering technician's certificate, which I passed with distinction. I became 753-approved in 1989 and I hold a current BS4872 welder approval certificate working in bike tube gauges. And, of course, 18 years of framebuilding experience.
Paul: Who do you build for?
Kevin: I build for all types of cyclists, but the biggest group would be racing cyclists and timetrialists. There is a growing demand for singlespeed and fixed bikes.
Paul: What do you think you do that is special?
Kevin: I build in all materials: 953 stainless steel, specialist alloys, carbon fibre and carbon fibre/alloy, carbon fibre/steel. I keep up to date with new materials and technologies -- that's really important. I'm constantly trying to improve, whether in materials, construction, durability or appearance. I listen carefully to what the customer wants, and I listen to other cyclists! You can pick up a lot by finding out what they like, what don't they like, why do they buy and ride certain brands...
Paul: Is framebuilding a labour of love for you?
Kevin: I had never thought about that, but... yes. It is a passion to make every frame special, better than the last one.
Paul: Looking back over the frames you have built, what do you remember with satisfaction; maybe with fondness? Do one or two frames stand out? If so, how?
Kevin: There are probably too many to list. The frames I have enjoyed most are ones which are challenging, difficult, something new... For example, development work on new tubesets for suppliers; tooling for new tube shapes; prototype work before production runs in the far east; frames for aerodynamic testing; team bikes; the customer who cannot get his bike made anywhere because nobody can or will do it.
Paul: You have built five frames for me or my children. The first two were track frames drilled for brakes so the children could use them in crit type races or just for riding on the road. The 650 wheels have drawn a lot of favourable attention. Do you enjoy producing frames for youngsters?
Kevin: I have done quite a few bikes for children, as it is difficult if not impossible to get a reasonable fit off the peg. These are tomorrow's stars and, as in all sports, it's an advantage to start young. Quite a few that I have helped are now going on to top-flight cycling.
Paul: At the moment you are finishing an unusual frame for me, designed both for everyday riding and for use offroad. I specced a combination of track ends, 120mm spacing and cyclo-cross clearances. How did you feel about that request?
Kevin: Your bike actually seemed quite normal. After all, people come to me because they have special requirements.
Paul: Do you build your frames differently when they are for fixed gear use? I remember you saying, for instance, that you put thicker seat tubes on that cyclo-cross frame because I wanted to use Magura hydraulic brakes. Are there any special tweaks you adopt for fixed gear frames?
Kevin: The main requirement is adjustable dropouts, either Paul Components or Rolhoff, or an eccentric BB shell.
Paul: What are your views on frame materials? For instance the different types of steel; aluminium vs. steel; composite fibres; exotic metals like titanium?
Kevin: All materials have their own benefits and disadvantages. You could make a excellent frame from any material -- the trick is getting the right frame for the rider. What do they need? Lightness, stiffness? Durability? Looks? Comfort? It is a balance of a lot of factors.
Paul: What do you do to get your paint to wear so well? After three seasons, my cyclo-cross bike still looks good.
Kevin: Attention to detail. Testing new products which may offer improvements. Checking what others are doing.
Paul: Do you ride bikes?
Kevin: Yes, although because of my commitments I find I have less time to ride now.
Paul: Do you use your own frames?
Kevin: Always, since I started to make my own.
Paul: Do you find cyclists a difficult bunch to deal with?
Kevin: Not at all. Most of them are interested in framebuilding. They like to know more about what they are riding and how it is made.
Paul: 63xc.com focuses on riding fixed gears offroad. What are your views on that?
Kevin: Horses for courses. Most cyclists have a collection of bikes for different uses. It depends on what suits you and your riding style.
Paul: You aren't the easiest of frame builders to contact...
Kevin: I have always gone by word of mouth. If I ever get the time I will do a website.