T-shirts
You've been here since the start, haven't you? Of course you have! Here's your chance to show that you're part of a truly underground cycling cult. Every purchase helps with our horrendous webhosting bills.
We've had two 63xc.com T-shirt designs printed up for sale through the site. They both carry the familiar 63xc.com 'compass rose' logo which Will made for issue #1 all those years ago, they're made of 100% pure cotton, and, as you'd expect, the printing is proper dye-stamping on an opaqued background layer, not iron-on rubbish.
By the same token, we size 'em the old-fashioned way: small, medium and large. If you really believe you're outside that range, drop us a line and we'll add you to the custom shirt list.
Before choosing a shirt, please take a moment to figure out which postage rate applies to you:
UK is for readers in England, Scotland, Wales, Northern Ireland and Cornwall
EU is for readers in the EU, including Eire
World is for readers in the US, Canada, and anywhere else outside Europe
UK is standard RoyalMail 1st class, while EU and World both go via airmail.
Your order will pass you to the online shopping basket of Hubjub, 63xc.com's e-commerce spinoff. Click the 'Back' button a couple of times to get back here. Oh, and prices are sterling!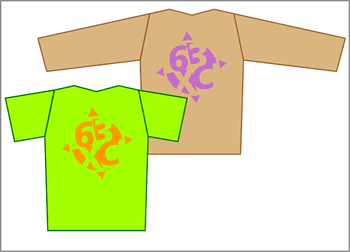 The 'Urban' T-shirt is a short-sleeved design from Kustom Kit in lightweight cotton. The drawing almost does justice to the colour, which is about as bright as you can get this side of dayglo. It should ensure that you get noticed even in the thickest traffic. We only have small in stock right now, but custom sizes are possible if you want to mail us. (Kustom Kit reckon S=38", M=40", L=42".)
---
---
---
---
The 'Rural' T-shirt is a long-sleeved model from Outer Banks in heavy 250g cotton. (That's nearly sweater weight, fact fans!) The shirt makes a useful extra layer for any time of year, and the subtle mauve-on-sand colour scheme will help you to blend into the landscape in most offroad situations. We only have small available now, but custom sizes are possible if you want to mail us. (Outer Banks reckon S=36/38", M=40", L=42/44".)
---
---
---
---